Best Long Range Paintball Guns Reviews & Buying Guide (Jan-2023)
With these best long-range paintball guns, step back to the battlefield with higher accuracy and improved shooting efficiency.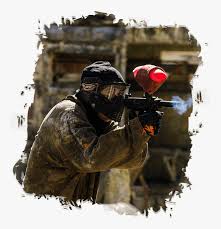 Shooting games, a source of boundless adventure, also improve a player's eye coordination, body movements, and spatial skills. Tracking the list, paintball ranks at the top because it does not include any bullets; instead, it is played with dye-filled capsules. Isn't it more fun? But, to enter the battlefield, you need to have the best long-range paintball gun that can shoot up opponents from feet away.
Long-range weapons have multiple perks, but I'm more interested in improving my gaming performance with every upgrade. Considering that, I have got my hands on some worthwhile paintball markers which perform with high precision and allow convenient control. Keep reading this informative blog if you're all set to bring the paintball shooting experience to the next level!
Best Long Range Paintball Gun
The first choice on this list is Tippman A-5, which is designed to offer long-range and speedy shooting. It is based on a cyclone system—integrated to provide smooth and quick loading. You need to pull the trigger, and you're done! In other words, it is a semi-automated long-range gun that can drive nitrogen, carbon dioxide, and HPA.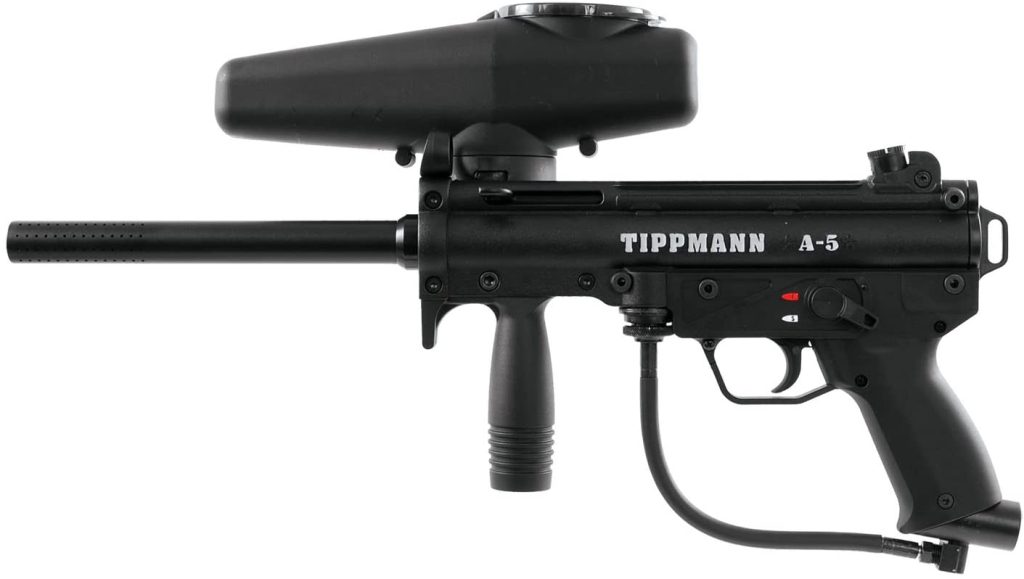 The best long-range paintball gun costs you more than hundreds of dollars, so it is necessary to purchase one that features enough sturdiness to last for years. In this way, I always prefer metal guns over any material for strength and durability. The Tippmann A5 is made of aluminum metal which is quite robust and resilient. It is very convenient to hold and manage, even for novices, because of its lightweight.
Besides endurance, the A5 has a user-friendly profile that possesses effortless assembly and disassemble. This approachable gun takes no more than sixty seconds to reassemble. Shortly, if you're a beginner, there is no better choice than the Tippmann A5 gun for you!
While playing paintball, it is impossible to shoot distant opponents without a long-range gun. Considering that, A5 is a picture-perfect choice as it can hit an object 150 feet away—with ultimate precision and reliability. I appreciate the addition of an 8.5 inches long barrel that assists super accuracy and reduces shooting noise, giving users a comparatively relaxed and focused shooting environment.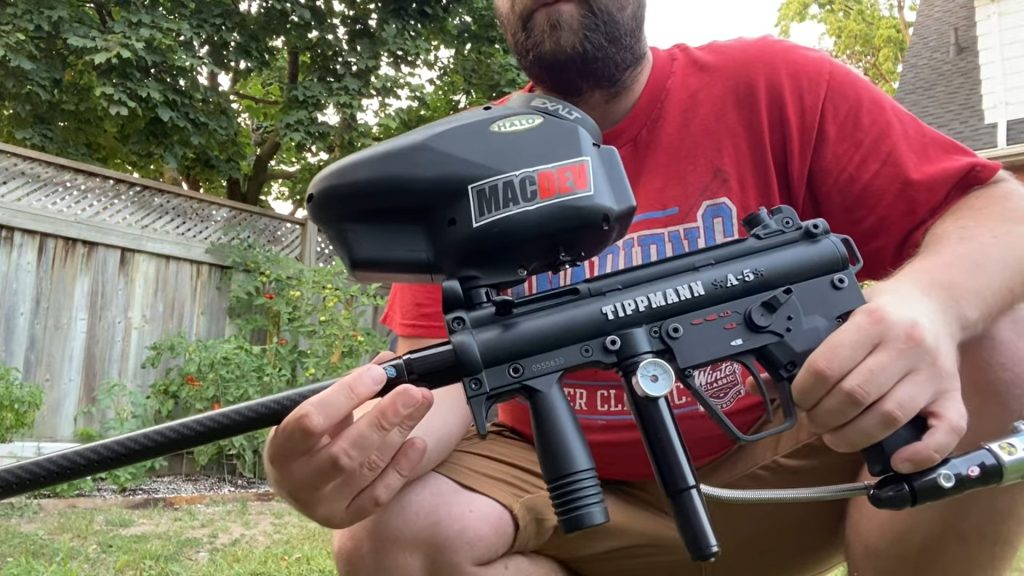 Over that, this best paintball gun is exceptionally customizable as you can update the barrel to improve the accuracy and speed of shooting. The sling mounts are also changeable; you can add one of your choices. I love the upgradable trigger because I'm obsessed with the electronic triggers available in the market these days. So, long story short, after purchasing that, you can modify it with time to make it more suitable and efficient.
Pros
Heavy-duty construction

User-friendly

Customizable
Cons
Upgrading makes it expensive
In a nutshell, the Tippmann A5 long-range paintball gun features professional-grade build quality, which is the reason behind its sturdiness and durability. It has a user-friendly, easily manageable, and convenient profile, making it suitable for beginners. Though this gun is exceptionally significant in functioning, you can also upgrade it to more efficient and supportive. However, those changes cost you more dollars!
Here comes another Tippmann long-range gun! In the paintball markers market, Tippmann is a famous brand for selling high-quality weapons, bringing your paintball game experience to the next level. The Tippmann stormer elite is a stylish yet practical gun in two colors: black and dark earth, while I like the dark earth shade more.
The Tippmann stormer elite is a high-quality gun that can shoot up to more than 150 feet, which is incredible. The primary purpose of a long-range paintball gun is to fire opponents from far distances, so you should never compromise over that. This excellent paintball marker's addition of precision and stability factors makes it a worthwhile choice.

For me, the weapon's look is quite considerable as it provides a noticeable impact on one's performance in a shooting game. The Tippmann stormer elite comes in a "MilSim" look, an acronym for military stimulation. The term represents the outdoor shooting games where players wear military apparel and hold realistic weapons to stimulate and combat. The stormer elite has an army appearance, providing you with a real-soldier feel.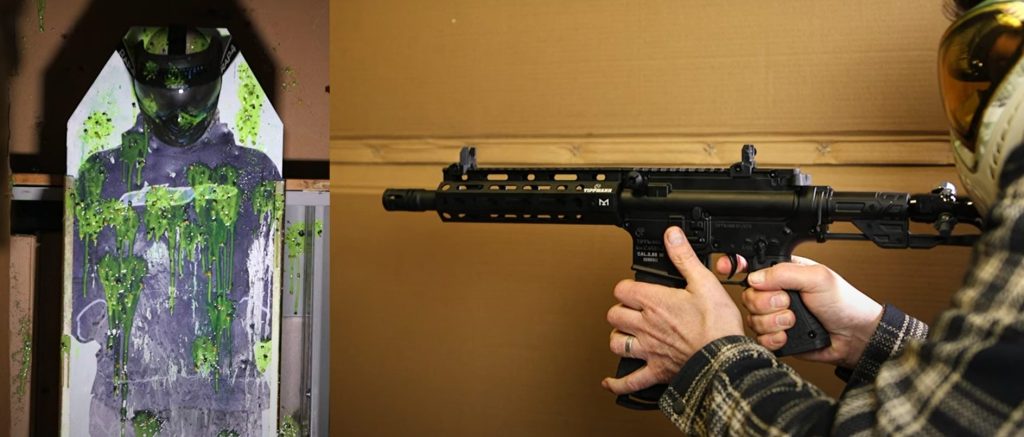 Besides appearance, it is composed of composite material that facilitates impressive durability and reliability to withstand extreme environmental conditions either on the battlefield or in storage. The professional-grade build quality is not limited to the exterior only. Still, it features high construction inside, due to which it has solved the gas leaking and other internal issues faced in paintball guns.
Pros
High accuracy

Sturdy construction

MilSim appearance
In a few words, there is no other long-shooting gun that can give so many features at such a pocket-friendly price range than the Tippmann stormer elite! It is made of resistant and robust composite material and has a military appearance. The best thing about this long-lasting weapon is its good accuracy in shooting.
The next choice on this list is Valken M17 Magfed! Valken is a mid-range brand that features excellent quality weapons and accessories to make shooting games more effective and convenient. I rely on this brand mainly because its weapons are effortless and ideal for entry-level players.
The Valken M17 Magfed comes with the excellent build quality. The frame is composed of heavy-duty plastic that resists external impact factors and is easier to clean than any other material. Though plastic is not as durable as metal, it does have some advantages, like it is a gateway from corrosion issues, offers smooth cleanliness, and is lightweight and easy to maneuver.

Besides its body, the barrel is composed of aluminum material which is lightweight, sturdy, and resilient metal. A barrel is a tube or a pathway through which a missile, bullet, or paintball is fired. It is the extended part of a firearm and has a cylindrical structure. The metal barrels are better because they can withstand pressure or weather fluctuations.
Furthermore, the Valken M17 Magfed is a mechanical paintball gun. The automated firing system is a half-automatic process that works without batteries. The blowback guns which follow this mechanism will fire when the gun trigger releases a lock or bolt, which is driven forward through a coil or spring and resultantly pushes the bullet or paintball into the barrel tube. In short, automatic paintball guns are more rugged, easy to use, reliable, and affordable.
While buying the best long-range paintball gun, the magazine release button also requires your consideration. The mag release is a small trigger button that releases the stored paintballs, so a rifle with an uneasy mag will adversely affect your shooting performance. In this sequence, the Valken M17 Magfed is the most promising choice because it comes with an AK lever-style mag release which is relatively smooth and fast.
Pros
High-quality barrel

Semi-Automatic functioning

Lever style mag
Long story short, the Valken M17 Magfed is one of the most dependable choices for paintball lovers because it is based on a semi-automated mechanism that adds more efficiency and speed to your shooting experience. I love the lightweight design of this portable and easy-to-manage gun. If you're a novice and looking for a promising start-up, the Valken M17 Magfed gun is highly suggested.
Paintball is not a board game with simple rules. Even a good knowledge of its instructions and playing method is not enough; you need to have proper apparel, weapons, and additional accessories to enter the battlefield and combat. In this way, the Maddog HK paintball starter package is the best option to start with because it comes with all the paintball accessories, including a compressed air tank, paintballs loader, anti-fog player mask, pods, a good quality barrel scraper, and of course, a gun.
The Maddog HK paintball marker features heavy-duty build quality, as it is made of professional-grade aluminum metal that is lightweight, sturdy, and resistant to external impacts. The frame of this gun required minimal maintenance, which makes it a worthwhile choice for entry-level shooters. It can release or re-insert a bolt in a few seconds because of its user-friendly and convenient setup. In short, I love the effortlessness manufacturers put in the profile of this beginner-friendly gun.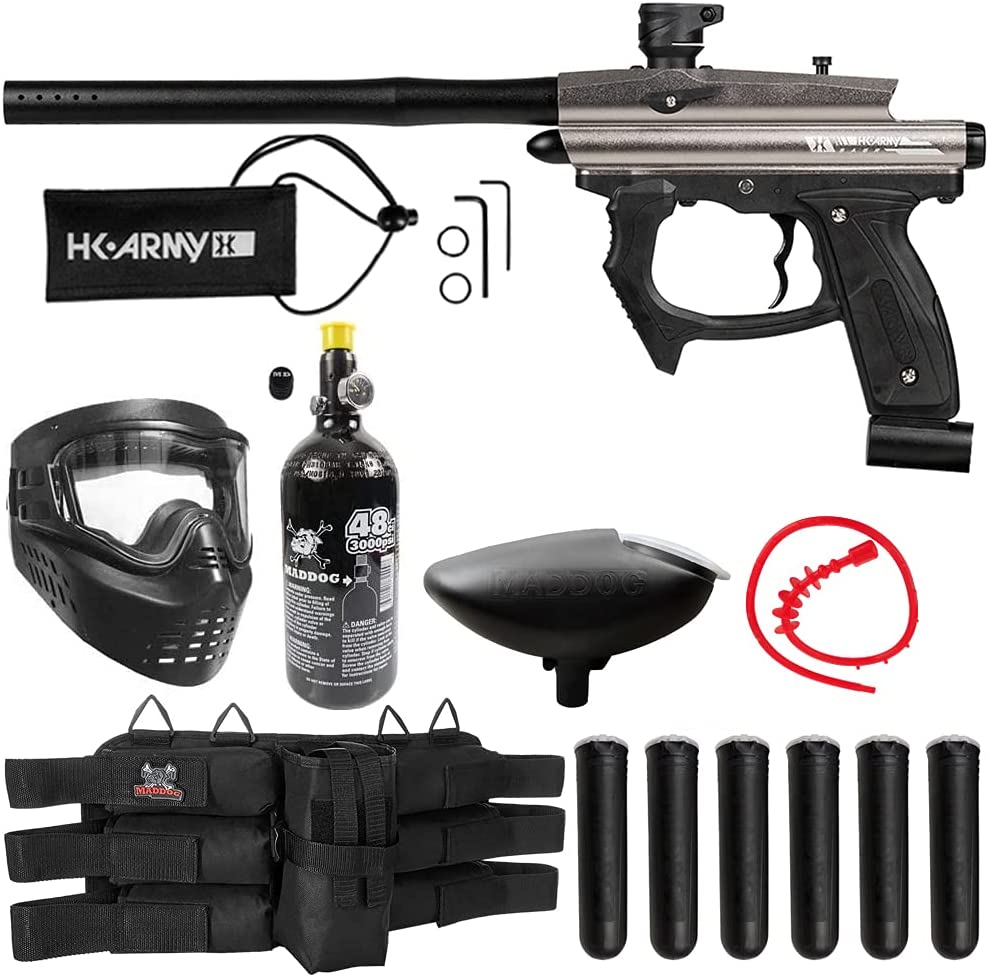 When I started playing paintball, I found holding a weapon the most challenging thing to do. So, I started looking at the best guns, which are easy to carry and maintain, and all thanks to the Maddog HK paintball marker. This gun comes with rubber grips on the outer side, making carrying a weapon so effortless even for novices. The lightweight aluminum body compliments this feature and allows users to have an easy-to-manage weapon, which will double up the gaming efficiency.
Moreover, the Maddog HK is based on the HPA system called the high-pressure air type. The HPA weapons utilize the high-pressure air from externally attached containers to operate. The best thing about HPA weapons is that you can transfer the tank to any new gun you buy, so it's a worthwhile investment in the long run.
Pros
Easy to use

Affordable

Entry-level Package
In short, the Maddog HK paintball marker is one of the best long-range paintball guns for beginners because of its primary interface and effortless holding. I love that it comes with additional accessories, which reduce your extra cost and effort. It is an all-metal weapon that boasts sturdiness and reliability.
FAQ'S
u003cstrongu003eHow far can a paintball gun shoot accurately?u003c/strongu003e
The best long-range paintball gun range depends upon the paint you're using, external factors, and the opponent's apparel. A regular paintball gun can shoot as far as 100 feet away, but a long-range gun can strike up to 150 feet far, which is incredible. However, the weapon's accuracy and shooting range cost more as you go up!u003cbr/u003e
u003cstrongu003eHow do I increase the range of my paintball gun?u003c/strongu003e
There are different ways to enhance a paintball weapon's range; the most basic method is to increase your speed. You can modify a paintball gun range by integrating a backspin barrel system. I have experienced that low-quality paint affects the accuracy and range of weapons, so it is suggested to use better-quality paint.u003cbr/u003e
u003cstrongu003eHow much does a paintball gun cost?u003c/strongu003e
The best long-range paintball gun price fluctuates with its features. An average paintball gun costs you $150 or less, while if you want to have a professional-grade weapon, it might cost you $500 or above. In my opinion, you should not compromise on quality over price to improve your shooting experience.u003cbr/u003e
u003cstrongu003eAre paintball guns automatic?u003c/strongu003e
There are modern paintball guns that feature a semi-automated design. In those guns, a new paintball is loaded automatically into the chamber once you pull the trigger, making the game more convenient and practical. This feature is lacking in many conventional paintball gun models.u003cbr/u003e
Final Verdict
Playing paintball is more fun and exciting when the team is winning. To always combat, it is essential to have the right kind of weapon in your hand, like the best long-range paintball gun. I have shared my favorite paintball markers in this article, which have improved my shooting efficiency incredibly. Amongst all, my top picks are as follows:
Tippmann A-5 because it boasts a heavy-duty construction and is customizable.
Valken M17 Magfed for its high-quality barrel and automated functioning.
In summary, having a worthwhile weapon can improve your gaming performance, so make sure to get a worthwhile one. But don't forget practice makes a man perfect! To become a pro paintball shooter, you need to nourish your skills through concentration, effort, and time.