Best Paintball Gear Bags – Review And Buyer's (Jan-2023)
Nine best paintball gear bags with impact resistance, ample storage space, and user-friendly ergonomics for damage-free transportation.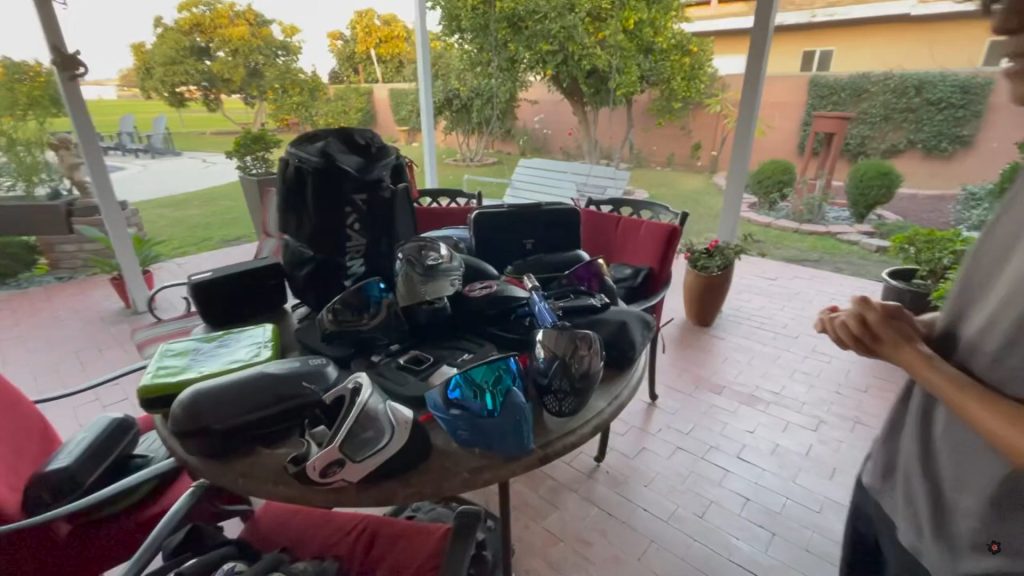 Paintball gear bags are handy since they offer damage-free transportation and safe storage for paintball kits. Finding the best paintball gear bag is tricky since a wide range of tactical and gear bags is available on the market. Depending on the type and quantity of gear you carry and the environment you play in, you have your own requirement of a paintball gear bag.
It might seem a bit confusing, but don't worry; we have simplified this equation for you. Here is a review of the nine best paintball gear bags on the market. All the products added to the list are tested for quality and performance, and they offer user-friendly ergonomics.
Nine Best Paintball Gear Bags
HK army Expand Gear Pack can fit the long markers and uncoupled rifles in its expandable storage and is, therefore, a perfect bag for paintball shooters. It features a versatile design coupled with expandable storage, allowing you to keep all your gear in a well-organized manner.
The bag interior is spacious, and it can be expanded up to 30% with a zipper at the base. The main storage is further divided into many pockets allowing you to organize your gear like markers, rifles, masks, etc. Also, there are multiple external pockets, including a microfiber goggle compartment. You will also get multiple loops inside and outside to attach all your accessories like barrels etc.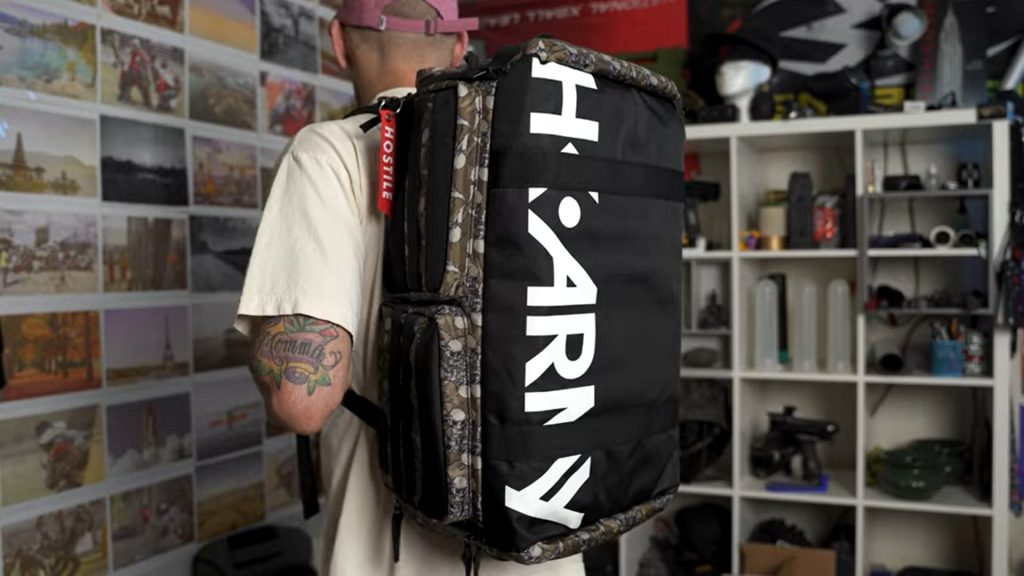 The bag looks more like a duffle bag, but a sturdy wheel at the base makes it an excellent travel option. It doesn't come with a retractable handle, but its shoulder steps are fully padded for maximum ease and comfort. Finally, the bag features impressive construction quality with a waterproof lining. However, zippers feature breakable construction, which is probably its biggest downside.
If you are looking for a more handy backpack for your paintball gear with ample storage, the HK Army Expandable bag is an excellent option for you. With a duffle design, well-balanced profile, and fully padded shoulder straps, we found this bag pretty easy to carry around.
---
All you should expect from a paintball gear bag is durability and storage organization, and it is what exactly Mercury Mini Monster offers. That bag looks like a regular travel bag, but its impressive storage organization and heavy-duty three-wheeler base make it a real deal-breaker. Plus, a soft handle on top makes it easier to carry or pull while traveling.
What impressed us most about this bag was its durability. It features military-grade construction and can withstand the harshest environment with minimum wear. The heavy-duty zippers and plastic corner guards further enhance the ruggedness offering the best-in-class quality. Then comes the storage capacity and organization. The bag has a fully padded main internal storage.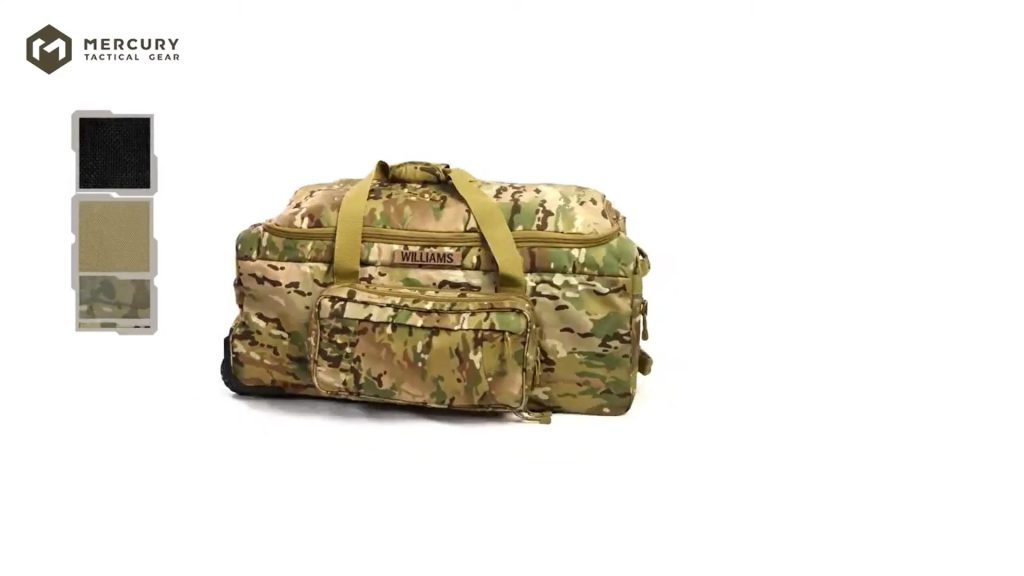 The padding inside offers unmatched impact protection for all your stuff. The internal compartment is spacious enough to hold a complete paintball kit without running short of space. Plus, an external accessory pocket gives you quick access to your essentials. The only thing it lacks is a retractable handle, making it a bit harder to pull when you walk around hotels and airports with a fully loaded bag.
Mercury Monster Mini is spacious enough to pack all your gaming accessories along with your personal essentials. Plus, its military-grade construction and user-friendly ergonomics make it one of the best paintball gear bags.
---
Planet Eclipse GX is one of the most affordable paintball gear bags you can find today. The bag comes with a super-roomy main storage compartment coupled with a mole webbing and multiple external pockets. What sets this bag apart from regular travel backpacks is its "Expander" feature.
You can increase its storage up to 50% to adjust all your long markers and rifles with ease and comfort. The overall capacity is 39L, revealing that the bag is spacious enough to hold all your personal and sport-related stuff for three to four-day events. The only flaw we noticed in this bag is that it lacks quick access external pocket.
The bag doesn't come with wheels or retractable handles; instead, it has fully padded shoulder straps. The well-balanced profile of the bag makes it easy to carry. Also, the bag has padded lumbar support that facilities airflow and offers an untiring experience even when you carry a fully loaded backpack.
Planet Eclipse GX is one of the most comfortable paintball gear bags we have ever tried. The bag offers impressive storage organization and waterproof construction quality at a very affordable price, and it is a highly recommended option.
---
Get a professional casing by Exalt Carbon series if you are more concerned about protecting your marker and paintball rifles. It is a reliable case for marker or gun that lets you transport your gaming stuff with 100% protection against impacts. It is a dedicated gun case with a rigid outer shell that prevents dents, scratches, and cracks, no matter how rough it is carried around.
You can divide and organize the main storage compartment with modular reversible inserts. In addition to the main storage compartment for markers and rifles, it has several pockets and full barrel sleeves. The pocket lets you keep additional tools in a well-organized manner.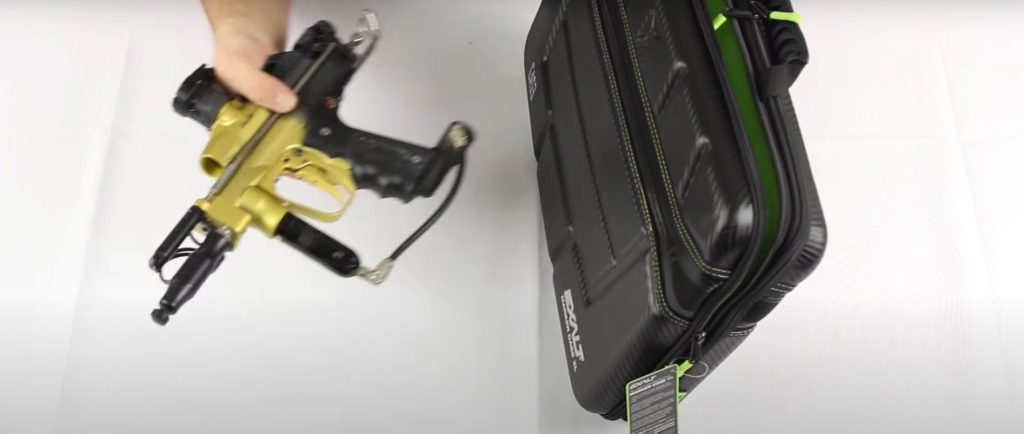 Also, it has an integrated flex zone that offers quick access to your accessories and eliminates the need to unzip the bag every time. A strap on top of the bag is the only way through which you can carry or pull it. Unfortunately, the strap is not that sturdy and gets easily damaged.
Exalt Paintball carbon bag offers damage-free transportation of your paintball gear and also offers safe storage. Despite being very affordable, the bag doesn't compromise quality and ergonomics, which is probably the best part.
---
Virtue high roller V4 is a unique paintball gear bag that combines the functionality of roller with the storage organization of regular travel bags. The bag is popular among paintball lovers since it welcomes long markers and rifles in its extra-large storage profile.
The main storage part of the bag is long and wide, allowing you to keep all guns and rifles in its main storage compartment. In addition to the main storage compartment, you get plenty of options like accessory pockets, microfiber goggle pockets, waterproof external liners, and much more.

However, the bag doesn't come with dividers, and you cannot organize the main compartment, which is disappointing. The sturdy construction with padded support offers protection against impact, and the waterproof liner keeps all your stuff dry even in the rainy season.
Moreover, we loved the bag's user-friendly ergonomics. It comes with retractable handles and wheels at the base, making it relatively easy to carry around. Plus, you can take out its fully padded shoulder straps on harsh surfaces where wheels won't move and carry it as a regular backpack.
While testing dozens of paintball gear bags around the market, we found this bag most comfortable and handiest. With ample storage capacity of around 7000 cubic inches and user-friendly ergonomics, the bag offers the best-in-class functionality and value for the money.
---
Everyone does not have the budget to invest in professional paintball gear bags. So the next option on our list is the CafeRace Orange gear bag that offers a close enough experience without breaking the bank. That bag is a sweet spot between price and functionality.
The most standout part of the bag is its storage capacity. Its main storage compartment is roomy enough to store a complete paintball kit along with additional accessories. Plus, the four oversized external pockets further enhance its packing capacity. You can keep all your essentials and tools at quick access in this backpack.
Since it is a duffle-style bag, you get a rugged top-belt for easy maneuverability. The bag has a solid base that offers protection against impact and keeps your rifles safe from dents and cracks. The sides are not padded, so it is advised to keep the delicate accessories at the base. Also, you should remember that it is not a waterproof bag and does not offer protection against water or any other liquid.
The CafeRace Large Paintball gear bag is an excellent choice for beginners since it offers impressive ergonomics and well-organized storage at a very reasonable price. Although it is not a waterproof bag, its construction quality is impressive and lasts longer than regular gear backpacks.
---
The next option on our list is the HK Army Expand Gear bag. This bag can be used as a roller and also as a backpack. It is one of the most oversized gear bags and offers an impressive packing capacity of 70 liters. The bag welcomes large markers and rifles and accepts all your paintball gear, including footwear, gloves, and helmets.
In addition to the main storage compartment, the bag comes with oversized external zipped pockets and mesh pockets. You can store small accessories and personal essentials at quick access while traveling. You can easily carry many things in this bag.
The best part of the bag is its convertible style. Its smooth glide wheel coupled with rubber grip retractable handle offers effortless maneuverability around hotels and airports. Plus, the fully padded shoulder straps let you carry it as a backpack in different situations.
If you don't have budget constraints, the HK ARMY Gear bag is the best option you can have for your paintball gear. From a convertible designed to impressive quality and ample storage capacity, it offers everything you can expect from a complete paintball gear bag.
---
Tactical gear bags always are the sweet spot of everyone since they promise functionality and durability. Nexpak 26-inch bag comes in a duffle style and offers an incredible packing capacity. Its main storage compartment is spacious enough to accommodate all your gaming equipment, including rifles, gloves, and helmets.
Plus, it comes with five oversized exterior pockets with ample storage space and heavy-duty zippers. Additionally, the molle webbing lets you attach your barrels and additional accessories at quick access. The bag is used for military deployment and is a durable bag for all outdoor activities. It has fully padded interiors that offer support and protection to your paintball kit.
Since it is a duffle-style bag, it has no retractable handle or wheelers. Instead, you would get a fully padded top handle with two straps for transportations. Unfortunately, the bag doesn't offer water resistance, and the u-zippers are also not waterproof, which is the biggest downside of this bag.
Nexpak Military Gear bag is one of the least expensive bags with a packing capacity of 3800 cubics. Inches. Its impressive storage organization, user-friendly ergonomics, and military-grade construction help it stand out as one of the best paintballs gear bags.
---
Tippmann paintball marker case comes with ample storage space and professional-grade ergonomics for the safe and handy transportation of paintball kits. It is a dedicated maker bag that measures around 12×26 inches and can accommodate all sizes of guns and makers.
Although it is a gun case, you can also keep additional accessories like barrels and masks in this bag. You will also get external pockets and velcro pouches offering quick access to multiple tools and personal essentials. The bag shape and design are quite different from regular gear bags, but ergonomics are pretty impressive.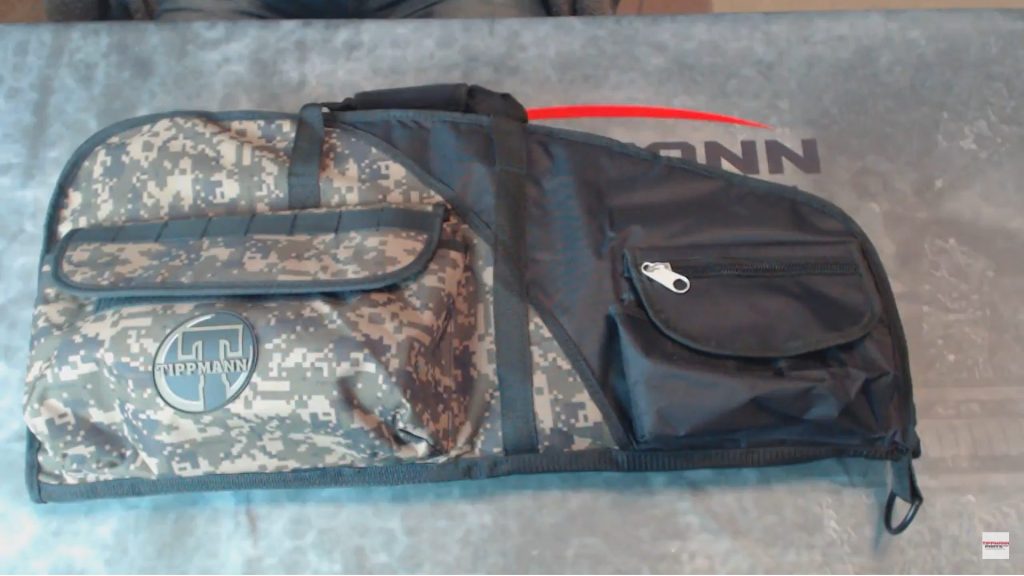 Tipman paintball case has a well-balanced profile and top-straps, making it easy to carry around. The most standout future of this bag is impact resistance. With premium-grade padding inside that bag, it protects your equipment even under challenging conditions.
The overall construction quality of bags and zippers is awe-inspiring. Zippers are waterproof, keeping your gear locked and secure in wet conditions. Remember, it is a gun or marker case, and therefore it offers a small storage capacity than full gear bags.
Tippmann Marker's case is an ideal option for professionals who care more about their precious stuff. Although it fits almost all sizes of markers and guns, it is advised to check out your gun size to see whether it fits in this bag or not.
---
Buyer's Guide
The requirement of a paintball gear bag varies from person to person. You can find the best product only when you really know what size, shape, and type of bag you need. We have discussed all the features you must keep in mind while buying a new paintball gear bag in this buying guide.
Storage Capacity
Storage space is the most critical factor of any gear bag. You should look for a bag that can easily store all your gaming equipment and personal essentials you carry with you. The biggest part of the paintball kit is a marker or gun. Therefore it is critical to ensure that the bag is long enough to accommodate you with long markers or rifles. Also, if you travel a lot, you may need to keep additional essentials with you, and therefore you should stick to larger bags.
Storage Organization
Storage organization of the bag is crucial since it lets you utilize the space in an ideal way. Usually, you get the main storage compartment on paintball gear bags, where you keep the leading equipment like a helmet, maks, and markers. It is advised to get a bag with dividers. Dividers let you organize the main storage into multiple compartments for different things.
Plus, you should look for external pockets. Eternal pockets give you quick access to smaller tools and personal essentials like goggles and phones etc. Another important part of the storage organization is molle webbing or hanging loops. These loadout attachments are also useful for hanging attachments like barrels.
Design Ergonomics
Gear bags come in various styles like duffel, backpack, and casing. Duffle bags are more common since they are the least expensive and straightforward to carry around. Backpack bags are also handy and are ideal for shooters who travel a lot. The casing is unique for different accessories like guns, markers, masks, etc. Casing style bags are fully padded and offer 100% impact resistance.
User-friendly ergonomics can really improve your experience. For long-distance traveling, you should look for bags with sturdy wheels and retractable handles. These features will help you carry the bag around airports and hotels. If you are looking for a backpack for paintball gear, you should look for the most comfortable shoulder straps. It is advised to find a bag with a well-balanced profile, padded shoulder straps, and lumbar support. The lumbar support maintains the airflow and cushions your back for an untiring experience.
Construction Quality
Paintball gear bags are available at a range of prices, offering different construction qualities. However, it is advised to pay an extra few bucks to get the best construction quality. You can find military-grade tactical bags that are used for military deployment. These bags offer rugged construction and last longer than any other gear bag. The quality of zippers, wheels, straps, and handles is also very important.
Impact Resistance
For damage-free transportation and handling, you need a gear bag that offers impact resistance. Gear bags with padded interior cuddle up to your delicate equipment and provide impact resistance. It is a critical factor that should not be overlooked in any way.
Waterproof
All paintball gear bags are not waterproof. However, it is an essential factor since the safety of equipment is highly dependent on this feature. Waterproof bags come with waterproof lining and water-resistant zippers to keep your gear dry in every season.
---
FAQ'S
---
Wrapping Up
We have reviewed the nine best bags with different designs and functions in this article. All products on our list are selected with the user's convenience and safety of paintball gear in mind. To make it even simpler, we have shortlisted our three favorites.
Mercury Mini Monster Tactical Paintball Gear Bag for its competitive price, military-grade construction, sturdy wheelbase, and user-friendly ergonomics
HK Army Expand 75L – Roller Gear Bag for its impressive packing capacity, roller-to-backpack convertible design, and premium construction quality
Virtue High Roller V4 Extra Large Gear Bag for its waterproof interior, ample storage space, fully padded shoulder straps, and storage-organization
Impact resistance is a critical factor you must consider while buying a bag for paintball gear. It is recommended to buy a bag with a fully padded interior for damage-free transportation of gaming accessories.